Name: Aoshi N'a'shezbaernon Elvira
Age: 18
Appearance: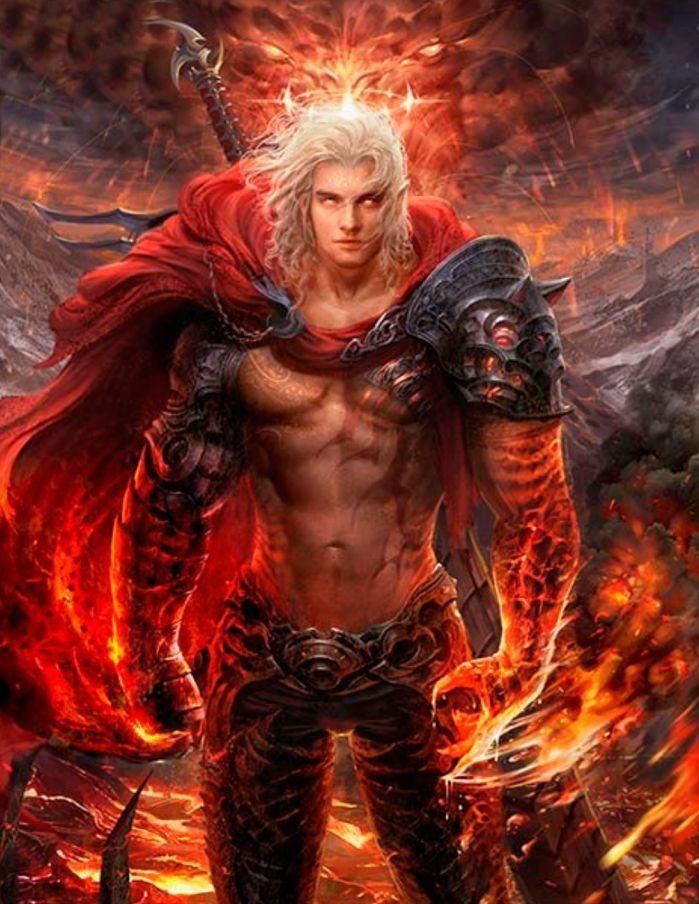 Personality: Aoshi is cold blooded filled with immense pride for his abilities and strength, which is usually complemented by how he is able to quickly vanquish his enemies in battle. His loyalty is to the Origin and as such, any that pose a threat are quickly dispose off.
History: Not much is known about his history.
Rank: Demon King
Metal Type: Aoshi uses Metalcore which he molds and reshapes their chains into an metalic liquid which he then inject into himself. The Metal quickly spreads through his body, hardening in along the way, giving him a core of pure Metal.
Instrumental Type: Brass
Echo Released form
Echo:
Disaster
Echo Release form: Beginning with the rising of the Sun at dawn, once activated, Aoshi begins to make a dramatic change, both physically and mentally. He grows much taller and muscular, with his clothes being ripped off him. In this state, his physical strength and endurance are incredible and his immense Sin casually radiates from his body as intense flame heat which appears as a constant cloak on his person which normally reduces everything around him to ashes He seems to be able to exert some control over this, turning his power up at will to produce intense light and heat to capable of melting even stone.
Element: Flame/Heat radiation
Type: Active
Description: Drawing his power from the Sun Aoshi has the ability to create, manipulate, give shape and control all aspects of fire and heat which also includes Lava. This gives him the ability to create a sun drawing its energy from it there by radiating immense heat of about 4000c capable of melting metal like butter.
Element: Sun
Type: Active
Name: Glowing Sun
Description: Aoshi forms a miniature sun in his hand that radiates immense heat. He can control its movements, using it to strike enemies as well as standing on it and using it as a flying vehicle. He can greatly enlarge the sun by putting more power into it. This also allows him to tap into the external and internal heat created by his opponents using it as a source to amplify his surrounding heat.
Other Workings: Aoshi can make his Sun to burst in an immense radiation of heat.
Element: None
Type: Active
Name: Full Burst
Description: Aoshi can cause numerous fire balls to lunch from different part of his body at different directions
Element: None
Type: Active
Name: Amaterasu
Description: Amaterasu: Amaterasu allows him to emit fire hotter than the Flames of hell. The fire flows out of his body and it's stored in his weapon which he can use to release them once it's gathered enough power.
Resonance Release Form: Aoshi The Man loved by the Sun God draws his power from the Sun. When activated, a burst of intense light that radiates an immense heat, Aoshi is literally covered with a burning black flame with his eyes as dark as Tar. He retains his physical form from his Echo.
Element: Sun
Type: Active
Name: Cruel Sun
Description: Like in his Echo, Aoshi is able to manipulate the physical aspects of the sun, being able to create a miniature sun which he could also increase in size, that radiates an immense heat starting with 5000C and rises with time per-post reaching its peak at Noon.
Element: Flame
Type: Active
Name: Royal Cloak
Description: Manipulating flames at will, Aoshi cloaks himself in a blue flame being able to withstand attacks equivalent to Kido 21
Element: Lava
Type: Active
Name: Final Burst
Description: Aoshi is capable of manipulating the basic aspect of Lava, using the intense heat created by His sun. He is able to turn the earth he steps into Lava which spans over an area of 150 meters using the intense heat of his Sun.