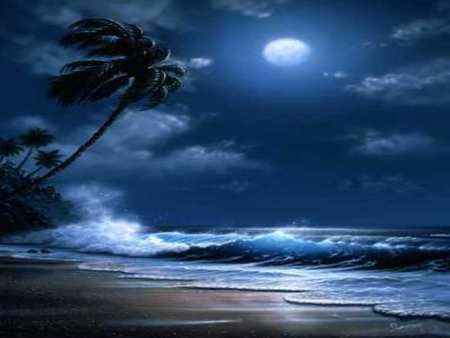 The waves lapped over themselves, crashing with great sounds and pushing the sea line past the shores. Sometimes the waters barely reached the sands, but other times they went further inland to caress the bare feet of the female shinigami who stood upon the beach like a sentinel. With the bright moon hanging in the sky and lighting this corner of soul society with its bright silver shine, the waters reflected the moon light to appear as a turbulent silver flow of beauty.

Ethririel already discarded her sandals long ago and was not even dressed in a shihakushō. The fourth seat of the thirteenth division wore only revealing purple bikini, the top of which struggled to stop her bosom from spilling out. As alluring as her outfit might be to some, the embroidery of vicious sharks tearing apart human prey on her sparse clothing would easily curtail any budding interests. Especially staring at the two peaks on her chest where rows of needle-sharp teeth seemed to open to an abyss.

Her brown hair was loose and flowed freely in smooth silken waves past her bubble butt as they blew gently whenever the sea breeze caught them in their flow. Since she was coming to the beach, Ethririel saw no need dressing up just in case she felt like swimming later as the few seconds needed to disrobe could possibly wash off her enthusiasm. Thus, after sending a message to the newest member of their division to meet her at this beach that seemed to always remain in perpetual night-time, she elected to come in appropriate wear, except for her black zanpakutō sheathe that she held in her right hand.

She only waited for a few moments and when the next tide came, Ethririel chased after it and dived into the sea, swimming leisurely in slow backstrokes while her zanpakutō rested between her peaks. Atsushi-sama already instructed her to try out the recruit, Kaisuke and while waiting for him, she was certain their captain would find no reason to reprimand her for taking a dip before inducting the young man. Right?