Name : Mayatsumi Griffin
Age : 56
Appearance
Height : 5.11
Weight : 75kg
Hair Style / Color : Light Grey
Eye Color : Grey
Attire: Mayatsumi wears a normal kimono. The arm of his kimono halts at his elbow joint revealing the many bandages that wrap his arm from his wrist upward.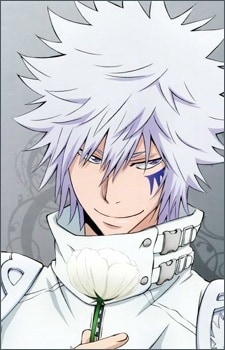 Personality : Mayatsumi's a very cunning shinigami, someone who enjoys the pain of others with pleasure, apart from that he smiles a lot and is usually open to those he loves. He's also very lazy and hates to do things that are stressful but other than that he's playful.
History : Mayatsumi lost his mother during childbirth and as for his father, he had disappeared even before Mayatsumi was born. He was raised by an orphanage ever since. Mayatsumi was the only name that his mother spoke of before she passed on but the name Griffin was only given to him as a sort of nickname from his peers. For some reason, , Mayatsumi held on to this name as a somewhat valuable treasure cherishing it as he continued to grow.
Combat style : Kido user. Also Zanjutsu novice although his sword arts continue to grow as he fights.
Division : 8
Rank : 11th seat
Zanpakutō
Name : Gazelius
Inner world:
Release command : Light up the way, Gazelius.
Release mechanism: Upon releasing his shikai, a tornado like wind energy surrounds [50m omnidirectional ]and it expands thus demolishing everything it hits or blasting it far away.
Spirit appearance:
Element : Wind manipulation
Bankai:none thought of yet