TMAV #1: An Everyday Review of 'Kingdom'
[INCOMPLETE]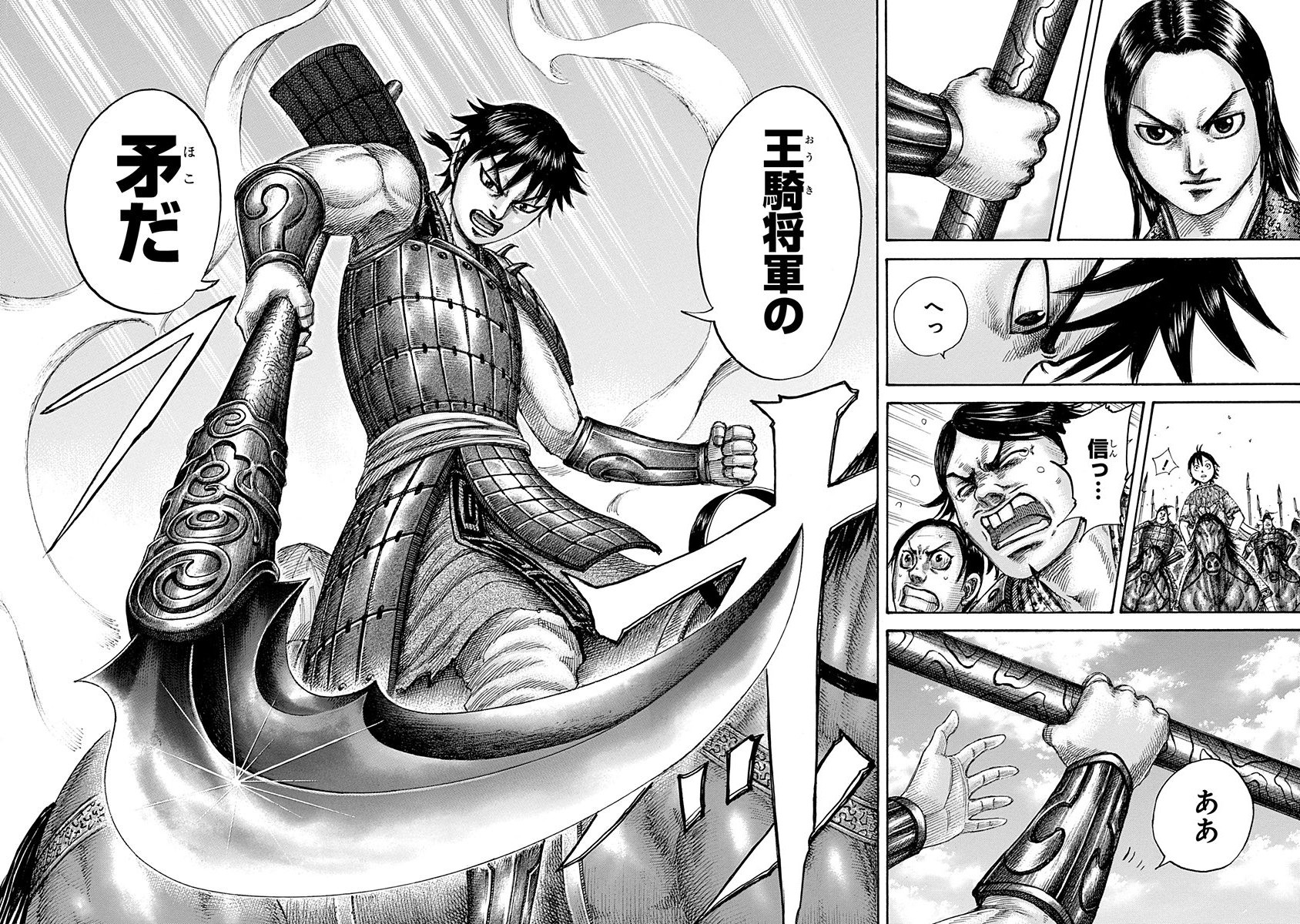 With the launch of the new forum, I launch my own review series - 'TMAV', being a shortened version of 'The Maverick'. What you're looking at here, and indeed expecting to see in future, is a bi-weekly series whereby I'll be reviewing various titles from the standpoint of an everyday, run of the mill Manga/Anime lover. This is me, returning to the fray, and reviving an old hobby whilst I'm at it. There won't be any spoilers in this series of reviews, though I will be providing panels and screenshots - nothing too spoiler-y, I promise. Please read my works as you would a news article - there will be large images, meaning you may have to scroll a little, but there won't be anything too overbearing.
~-_-*-_-~
Before I launch into a full blown review about the series 'Kingdom', I'm going to outline the history of this lengthy (and by no means complete) Manga. Illustrated and written by Yasuhisa Hara, the Seinen series was originally launched on May 19th, back in 2006 - the series is quickly approaching it's 11th birthday as I write this, and is showing no signs of slowing down. As of today, chapter 503 is available, meaning that over it's 10 and a bit years of success, Hara has consistently provided great artwork and gripping storytelling - comparing this quickly with One Piece which started back in 1999 with 853 chapters to date, it's no real leap to say that although Kingdom lacks the following of Oda's work, if given a chance, it could contend with the 'big' titles you see these days. How easily, you ask?  Well, reading a review is all well and good, but I suggest reading the first 8 chapters alongside reading this.
Kingdom follows the 'Warring States' period of China's history, though as you would expect from a Manga, the events are dramatized for your entertainment. As I open Chapter One, the tone of the rest of the Manga is immediately set in terms of both art style and genre. I see a somewhat stylized set of panels as I'm presented with a flashback - the final panel shows an ornate Chinese sword, dripping with blood. I wouldn't go as far to say that Hara focuses in on the gore aspect of war throughout the series, but on the very first page, it's shows you what to expect. The art style itself is very recognizable - although Hara hasn't dabbled in many other works,  you could easily pick out a panel from Kingdom amongst a sea of other panels. Take a look, and you'll see exactly what I mean.
So, so far, you know it's a Seinen Manga, written by a fairly unknown person, that has a distinct art style and is over 10 years old. You know it has over 500 chapters to sink your teeth into, but what else? If there's anything else I'm going to explicitly draw your attention to, it's the

scale

of the scenes you'll read. I'll provide a panel here, so you can take a look (the following panel is taken directly from the Kingdom Manga over on Mangafox, and respective rights belong to both Hara and the amazing folks who cleaned up the image, translated the text, and posted up the chapter). 
~-_-*-_-~
~-_-*-_-~
Scale.
There are better images I could have provided to show you exactly what I mean, but this one does it perfectly anyway. Even the most seasoned of artists struggle with scale and perspective, and considering Kindom focuses around the various

large

conflicts across the warring states, it stands as a testament to skill and passion that this series has gone on for as long as it has, and has done it ever so well. It's difficult to sing the merits of such a great piece of work without going into detail about the plot itself, but I'll do my best. 
You'll follow Xin on his journey - a young orphan of war with aspirations of greatness, and his personal development as he goes from lowly farmhand to Great General of the Heavens. There aren't any gimmicky plot-holes, it doesn't follow the tried and proven path of 'Hero gets beaten, Hero reflects, Hero Trains, Hero fights again and wins'. The series isn't as linear as other long-standing Mangas, nor is it written to have you 'know' your Hero will come out just fine in the end, because the world of Kingdom is far larger than the simple following of one character in his struggle to attain greatness. There are so many key characters you're introduced to that I can't easily recall names, but I sure as hell recognize them when they turn up amongst a tens of thousands strong army. Perhaps that aspect alone may turn you off of a series, but if you read it slowly and take in exactly what's happening, you'll be given a rich story line that really will make you annoyed when you run out of chapters to read, and will make you fidget awaiting the next release.