Posts: 67
Joined: Thu Mar 30, 2017 3:45 am
User Title: [5th Division Captain]Unhinged Lunacy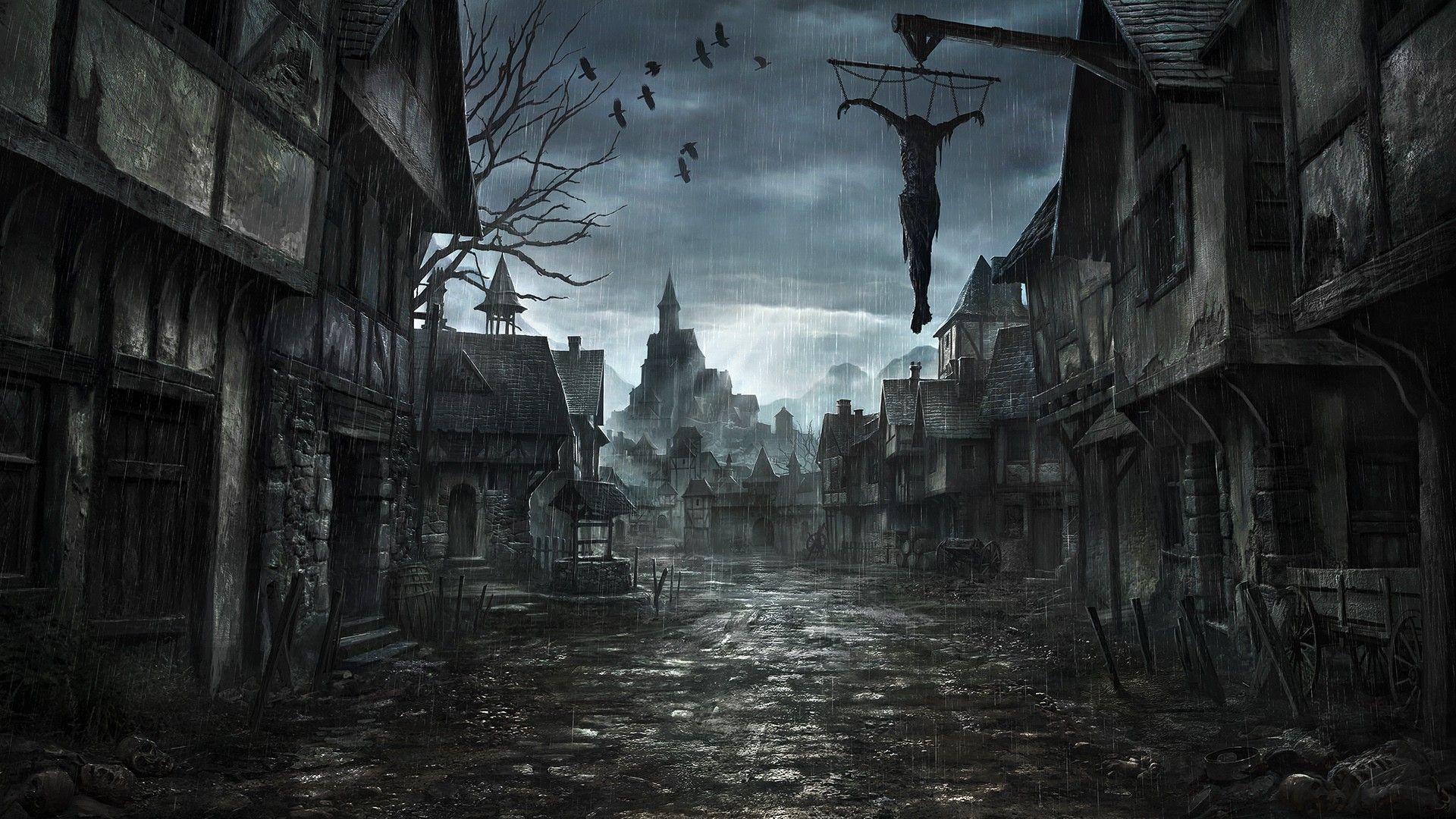 Only Phantom T and Aegis Raiu are allowed to post in this thread.
word count: 13
The streets sat in total silence, with the clouds raging on as if in pain. Droplets of water poured from the stormy clouds hitting the streets as mild as a lady brushing the back of her pet cat. There was nothing left to see, there was no sound to hear, not even that of the town bell left in a state of rust.

Skulls lined the lonely roads, all buried in clusters of web and weeds. Pools of mud and blood washed along its side stream, turning the once lively city into a land of lost and despair, a bloody waste land so to say.

Gentle steps patted along the muddy streets, causing no more sound than that which the droplets of rain had continuously drummed. A middle aged man he would appear to be, dressed in a black kimono, with a white haori hanging over his shoulder. The cold wind tugged ever so slightly on his haori making it seem like a cloak put in place for flight. A straw hat sat firmly over his head shielding his long hair from the rain. One would barely see his face but his cold eyes would be as clear as day

Walking so slightly with his hand resting by the side, Hazuki as he was well know by, would pull up his hat for a while gazing at a dead body hanged over the street in display. A warning he would presume it to be, something normally done to show example to those who go against the rules of the king.

However, this was nothing he hadn't seen before, an insignificant way to show power he usually consider it. Returning his hat to its formal position, He would carry on his journey, looking only ahead as there was nothing more to see. Maybe another day, he would return and admire the blood stained pools or the murky buildings and barns, but definitely not this day. At least not until his business here was done.

Submerging his two hands into his kimono, the light skin Shinigami would ponder on the events of his past and the events about to unfold. He could distinctively tell he might not get the chance to admire the ruins and would immediately let out a sigh in return.

The gotei 13 was now his home, one he was ready to protect at any cost. But the sight of an old enemy had come to hunt his days, a man he had hunted all through his life was now one with him, a brother in arm or so they say. However, even though he held no grudges he was not going to accept him with open arms, not when he still didnt believe a man such as him could change.

Hazuki had heard much about his changed ways, how he had come to join the good fight. Kin had been really thorough with his explanations and was one person he felt had good insight. However, that didn't matter, at least not to him. He had his own way of finding the truth and today had been set up right for that.

A flock of crows would immediately fly by, causing him to admire once again as they settle unto a barren tree, clustering around each like one happy family. Well that cannot be he would murmur, not with a man like Daruis around.

Turning over to gaze at the tallest tower around, Hazuki would continue his journey, this time allowing his reiatsu sip out of him, causing the crows to immediately take flight as if spooked by a predator in search of blood.

word count: 607
Posts: 67
Joined: Thu Mar 30, 2017 3:45 am
User Title: [5th Division Captain]Unhinged Lunacy
The arrival of a terrifying figure drenched the already wet town in dread. Each step rang to all life forms far and near of its existence. It's shadow casted that of a behemoth man but a man still, nonetheless... men of wits would rather not call him one whilst in the presence of his spiritual might. His presence, though frighteningly overwhelming was constantly under heavy suppression. He had a grin on his chin, signifying the excitement in his veins, a disbelief of the power fate held. To think he would meet the one man who'd evaded death by his hands multiple times in the past, a true warrior and a hunter, but of course he would never admit it before him, he was merely only interested in the thrill.
As the clouds darkened and the rain drizzled, the dreaded town slowly gained even more beauty with skull decorations and bloodied mud floors, missing only a gloomy song to add taste. The wind blew doors shut and mice littered the streets petrified under the influence of this monstrous spirit pressure.
However, this man was not insane, at least not anymore, his name... Darius. Clad in the regular shinigami Captain's attire and haori, the standard shihakusho, a white shitagi, a black kosode and hakama, a pair of white tabi, a pair of brown waraji, and a white narrow obi. He stands at over 6 ft 5 inches tall and possesses a muscular build. Along with his short black hair and black eyes, he wears a thin brown bangle on his left wrist and right ankle. His Zanpakuto is a pair of identical pistols holstered at both sides of his chest, and remains concealed by his haori. Darius was here to meet an old acquaintance, Hazuki Ryu... Perhaps he still wants the bounty on Darius... Or perhaps now as Shinigami things would be different, but one thing was certain, death would come to anyone not strong enough today.
Still walking along the lonely streets of the deserted wasteland, birds from a distance would fly past in distress as though spooked by some evil, a clear indication what he sought was within reach. He would laugh psychotically and hasten to the top of the tallest building in two strides, peering down towards the angle from which the birds ascended, he would easily locate a flapping white haori and increasing spirit pressure in the distance.
"Hazuukii!"
Darius called out at the top of his voice, easily defeating the loudness of the downpour, it would echo through the land as though the trumpet of the king had been blown. Despite his excitement, he knew it was time to employ caution, yet like a gambit, he would jump down and walk towards the captain whose face seemed partially obscured by a straw hat seated atop his head. With still quite a distance separating them, Darius would fold his arms in his armpit and gaze down on him with a grin. Slowly letting out incredibly damp red colored spirit energy from the vast pool of his Reiatsu, such that spiritually unaware beings would feel uneasy, a deliberate attempt to size out his opponent.
word count: 528
A few more seconds into the waste land, and the signal came.

"Hazuki"

a voice roared so loud, the rain seemed to stop for a while. It wasn't so much the rain but the sound it made. Trilled by the sudden mention of his name, and the familiarity behind such voice, the shadow walker immediately stopped at his tracks, slightly pulling his hat up to confirm the presence he felt.

A figure Clad in the regular Shinigami Captain's attire and a Haori, standing over 6ft tall with the build of a monster quickly came to view. He stood tall against the wind at the peak of the tallest building and seemed to be well prepared for the day. Hazuki's eye quickly lit up with excitement, as he watched him drop from the peak of the building. If it isn't "Daruis" he murmured, almost with a smile as he pulled back his Hat in place. His left hand quickly rose to the hilt of his Kodachi which was well strapped to his right waist by a belt. His katana also appeared to be stationed in thesame position though slightly lower than the kodachi.

Thinking back to the last time he had seen Daruis , Hazuki concluded not much had changed. At least not how he seemed to maintain an intimidating presence. Though still so far, Hazuki could already feel his Reiatsu pressure build up. Bubbling up to take a damp red glow which slowly increased with every step.

Taking the hint from his fellow captain, Hazuki gradually let his run loose, causing the earth to trample at its wake. With each step made tiny slabs of earth peeled from the earth, totally disintegrating as they rose to the sky. His mere presence would see to the end of every low life form over a vast area of land even though still suppressed as a testimony to his control.

So loud

"Daruis Taicho",

Hazuki voiced out, addressing the captain who now had both hand tucked into his armpit.

Hazuki would carefully observe his opponents stature picking up on his battle ready demeanor. "

Hope you don't mind toning down a bit, wouldn't want someone coming to your aid"

. He would taunt, now with his Kodachi drawn to reflect the ray of the moon.

He would then stop 20 meters away from Daruis with a red ball of energy building up in his now outstretched right palm. It wouldn't need much to hint a Shakkahō was in place. However giving the captain only the second to react Hazuki would rise to the sky, spinning mid air to allow a momentum build as he throws forward his kodachi held in his left at an amazing speed. Though not at bullet speed, The kodachi thrown with moderate strength would aim directly for Daruis left shoulder in an attempt to sever tissues and bones.

However, this would be the least of the captains worries, as Hazuki himself would fade out of sight at the point of parting between him and his Zanpaktou. Moving at a more amazing speed he would fade into reality subsequently resurfacing 2m by Daruis right side with the words "

Sai

" spoken at that exact interval.

With eyes always focused on the shinigamis arm. The captain would allow the fully charged Shakkahō shoot forward into Daruis midsection in an attempt to tear him to bits, if by chance he was unlucky to meet a stoic defense minor burns will then be in place as the reiatsu invested into such would be enough to level flights of building lined up adjacent of him.
word count: 604
Posts: 67
Joined: Thu Mar 30, 2017 3:45 am
User Title: [5th Division Captain]Unhinged Lunacy
Darius watched the young captain tilt his hat a bit to access him with a smile on his face, a clear indication he too was ready for what carnage laid in wait. Pulling back his hat in place, he would grab unto his Zanpakutou with his left arm, as he began a willful display of his spiritual might, evaporating the surface of the earth on which he traversed. Very noticeable were the two swords strapped to his right girdle insighting a dual blade user and the impressive amount of spirit energy he emitted, such that he was able to stand before Darius without flinching.
'So loud... Darius Taichou, hope you don't mind toning down a bit, wouldn't want anyone coming to your aid,'
said the little captain, thus forcing an even larger smile on the herculean man's face. He, Darius would continue a keen gaze when Hazuki would attempt to disrupt his vision by reflecting the ray of the moon from his blade, prompting Darius to free both arms from their previous position to block with his left arm, now wielding his Zanpakutou on both hands he would look up to sight the long haired captain form a red ball of energy in his right hand as he dashed forward and took to the sky, spinning his entity rapidly, he would throw forward his sword towards the daunting figure, aiming for his left shoulder.
At this point it was clear the Captain would try to cover the distance in order to utilize his attack but left with little time to deliberate, Hazuki would employ his Hoho to appear by Darius' right side, aiming his Shakkaho at the huge man's midsection while uttering the word Sai.
Much like an aggressed lion and in response to the impending danger, Darius dashed forward towards the assailant, thus evading the metal impaler, only for the unmistaken spirit pressure of his foe to resurface by his right. It was Hazuki, bringing with him imminent danger in the form of a fully charged Shakkaho aiming for his midsection, however, not even Darius would miss all the warnings his body relayed in that instant, from the change of sound caused by the fluttering rain in that angle, to the heavy presence his Reiatsu boasted, he knew what was coming for him.
As he tried to stretch forth his right arm towards Hazuki he would hear the word Sai, a negligible spell for someone like Darius surprisingly moved his arm towards the back despite the dense red continuous outflow of his spiritual might, a testament to the power his foe held, yet in almost that instant he was free from it's witchcraft. Still unable to return in place to save its master, Darius would as a result, yell out
"Sekisho, "
summoning forth a quick forming wall of energy just in time to receive the full impact of the red blast, pushing him a few inches backwards and scoffing the lower ends of his haori, Darius would look up and smash the earth with the lower part of his left fist...still with his Zanpakutou.
"Sekienton,"
said Darius, filling the entity of the field with dense red smoke, a ploy to keep his intentions hidden, he would completely seal off his Reiatsu and reappear at the top of the building behind Hazuki by means of his Shunpo. Both hands outstretched he would fire two rounds of finely tuned Reiatsu bullets each from his dual pistols towards Hazuki's general upper body, relying entirely on the pinpoint feel of his Reiatsu and knowledge of his general location. If successfully hit, Hazuki would find multiple openings on his skin accompanied by severe pains.
word count: 617
Engrossed in each passing moment Hazuki witnessed Daruis reaction to each stone thrown. His countenance showed no weakness and his reaction commendable, he was indeed cautious and very perceptive of his movement 'as expected of a captain' Hazuki noted as he watched him skid to his right with a shield in-between him and an explosive kido let loose on him. An un-willful display of power struggle signaling the beginning of what most would consider the birth of chaos. The blast spanned out wide causing the natural elements to retreat in varying manners, as a banging sound and red bright lights lit up the night sky.

With eyes locked on Daruis as the explosion quiets down, Hazuki found himself starring not too long, or as much as he would have loved to, catching only a glimpse of Daruis in perfect shape. The behemoth of a man had in effect blurred sight, raising a fog of blood, a red colored miasma of smoke made for the sole purpose of intimidating sight.

"Sekientou"

as summoned was a kidou used in effect for sharp escape, one which Hazuki knew and would find troublesome at the moment.

The smoke quickly spread high and wide warping building and street marbles over a wide range in its harmless fumes. Hazuki was no different from the rest as he himself was quickly covered by the smoke, a testimony of a kidou effect casted by one boosting an overwhelming spiritual presence

Strolling forward towards his blade with caution and Reiatsu applied in its simplest form, all in search of his foe, the Shadow walker carefully approached His Zanpaktou impaled into the ground several meters safe from the sea of smoke. Hazuki knew too well a battle fought without sight demanded more from him, but this was a field he was already familiar with being a Samurai of high rankings. Subconsciously and without delay he too had heightened is senses the moment Daruis blurred out of sight.

Barely out of the smoke with his shoulder and back now visible as the rain continuously fought to put to stop that which had unnaturally risen, Hazuki eyes met with his blade as he simultaneously took note of two happenings. With one being the sudden lack of the overwhelming presence which he had felt once before and the second being a silhouetted image reflected unto his blade barely seconds after Darius had vanished. The shadow walker knew only one thing,

"Daruis"

.

With both events happening sequentially all the Shinigami would do was dash for his blade as the banging sounds of a gun echoed off. With the boundaries of time brought to a standstill as the bullets of shaped rieatsu humbled its flow the rounds of bullet tore into Hazukis White Haori, leaving it full of holes and pitiful gaps.

Hazuki on the other hand, had also moved at an impressive pace, one fast enough to leave behind anything not strictly fastened to his person. His captain Haori being the only object of such misfortune had indeed suffered this effect and was now full of holes. However, while he might have moved with the effect of his Shunpo at max, the bullet had also managed to encroach into his left arm space, putting a tear to his once perfectly starched Shinigami black fabric.



"Guns"

he muttered settled behind a building face down with his hands drawing open his second sword (Katana). Leaving only the Captains jacket to float calmly in display as it descends unto the muddy floor, he let out a slight sigh considering, he never imagined he would have to leave behind his Captain Haori. A painful sight it would have been for him if he stood to observe his cloak descend, however this was no day for idle condolence especially not for a piece of wear.

Already stationed at the south base of the building where Daruis stood tall. Hazuki placed his right hand few meters off its wall, allowing yet another kidou of flaming red ball "Shakkahō" take form and slam into it, with subsequent effects mimicking the first of its kind earlier let loose on Daruis. A 2nd Shakkahō would rise to the skies and through the debris and flames aiming directly for Daruis on-top the chaos as the building quaked and crumbled to the ground sending debris dust and flaming rocks flying. With both kidou released at the sole mention of Shakkahō , Hazuki had made sure each spell were packed with just enough force to cause as much turbulence while being relatively lowered in effect when compared to a full charged version of itself. With this act being a rare testimony to his reaitsu and control boosted, the shadow walker carried on by whispering a second word

"Envelope"

which would have his reiatsu leaked, revealing his location and position as the stream of dark reiatsu revolves round his blade. Releasing his own controlled reiatsu in effect Hazuki would create a sensory field around 15m of him making sure to pick up any motion which interrupts its flow, this was in effect of a reikkaku field in full dependence on motions intercepting it's boundaries.
Last edited by
Phantom-T
on Sun Nov 11, 2018 11:32 pm, edited 5 times in total. word count: 860
Posts: 67
Joined: Thu Mar 30, 2017 3:45 am
User Title: [5th Division Captain]Unhinged Lunacy
The emergence of loud bangs had brought along death for it's current target, a nimble foe to say the least after witnessing the messengers fail to complete their task. The long haired captain had managed to locate Darius and evade the barrage of purposeful bullets that imposed from behind. He had reappeared a few meters away, leaving behind only his haori to the unwavering assault of the huge fella.
Darius only observing the events play out had realized the captain dashed toward his earlier swung blade, away from the red veil and drawing unto his second blade. He placed his right arm toward the building on which Darius stood, summoning forth another red ball of Shakkaho unto the building...the big man quickly realized the Captain's love for flames and was willing to show him a bit of what real flames looked like.
Throwing no second to the wind, Darius had dashed to his right and unto the roof of the neighboring house by means of his Shunpo as the assaulted building crumbled, with it came crashing sound, smoke, dust and flames. Still in the heat of things, another red ball of flame had been conjured from within the turmoil, aimed towards Darius in his new location, he would point his left arm towards it and fire off a single powerful blast of Reiatsu from his pistol to ensure an even louder crackle of unbiased explosion.
Darius had begun to feel much better than he anticipated and as such was willing to notch up the fun first hand. As the violent explosion caused the wind to blow even wilder, he spoke.
"Unleash the rage, Kagutsuchi."
With the words came abomination, the sight of one born of hell it seemed. He had unleashed a massive wave of intense yellow flames, a circular burst of spiritual energy that surrounded him as a fire rain, it burned in an instant so greatly Darius had pummeled into the building on which he stood from the roof, the integrity of the building could not withstand his furious outlet as the entire roof crumbled on itself, sequentially the rest of the building would light up in flames, powerless against the heat.
A few seconds later, and from within the now burning building, a figure would burst forth through the front door as though it had a search warrant. Careful observation would reveal a flaming, shirtless Darius with a 3 meter long flaming tail, his Zanpakutou would transform into a pair of metal gauntlets, covering his arms up to the elbow, possessing spiked protrusions at the knuckles. His intense body build laid bare, much like a hardworking boxer. He appeared a bit crouched with his huge size, gifting a keen gaze on the little captain, his once hidden spirit energy revered its true magnificence, threatening to rip out all which came in contact with it, the very earth beneath him gave way to the flame, peeling away rapidly as though thrown from its place of rest.
Darius had his eyes set on one target before him, giving no warning nor displayed hesitation he leapt forth at the height of his flash step, only to stop about 2m from the long haired Shinigami in a single bound. Those with blessed perception would observe a flaming tail aim for the left shoulder of the young captain at incredible speed. They would also notice yellow sparks of lightning energy begin to form on Darius' left gauntlet, but this wasn't the only problem the young captain would encounter. At the moment Darius' feet made contact with the ground, thousands of razor sharp 10 inch earthen spikes would instantly sprout upwards surrounding a 30m radius except where the huge captain had placed his feet. Aimed to impale the young captain from below, the earthen protrusions would render him immobile if successful.
word count: 642
Agog eyes searched the troubled streets, peeling through flames and fumes in hunt of the man Hazuki marked as foe. Though already settled within an introspective space of comfort, Hazuki stood quite eager, keeping guard for the next stream of bullets which could come from the dual pistol wielder (Daruis). "Why so tense" a senile voice spoke out calmly ringing it into Hazukis head as he carried on "you only need point me to him and I will bring you his soul". Donning on a smile Hazuki quickly replied "Shinsou!" calling out only his name in confirmation of the awakened presence of his Zanpaktou spirit, now part his fight. The simple act of hearing his voice immediately acted as a nerve calmer, though short lived as other series of events kicked in.

A Large bang quickly echoed through, deafening the short peace which he had come to enjoy, with all fingers hinting its origin to be from the east, a few meters away from the building crumbling before him. That's the second He noted as he unconsciously moved forward leaving no time for idle thoughts or chatter. Keeping in mind Daruis sudden lack of presence, the second bang had only meant his Kido made contact, and weather the target was on point or not, that was the only clue he had on his foe and as such that was all he needed to make his move.

Jugging through the street as if taking a dog for a night run Hazuki came to find a building lit up in flames, with fumes rising up into the night sky. Another one he wondered noticing the difference between one brought down by his kido and that which stood before him. With hands fastened to his blade as the thought of an ambush skipped through his mind. A figure blazing yellow hot came crashing through its wall, smashing into the earth with shirt torn to reveal muscles and flesh, unaffected by the flames it peeled out from. In the place of guns Hazuki noticed gauntlets and behind stood a tail hanging so distastefully it almost gave Him the chills.

"I hope this is the one?" Shisou intoned causing Hazuki to drag his left foot backwards as stream of shadows raced up his leg covering him up in what would seem like a body hugged with belts, intertwined in layers of 2 to guard all nooks and cranny from the flames. His appearance quickly taking the form of a demon of the night would leave none except his brown eyes glowing in the dark. Felling the sudden rush of Reiatsu from the fiery beast, Hazuki would incline his causing a veil of darkness to futher engulf him as shades of dark beasts slowly peel from the ground, felling the sudden call of their master slowly give life to their soul.

A cosmic meeting of night and day it would seem, as both flames and shadows battle out for supremacy. However, just as soon as he had boosted his reiatsu the fiery man would leap forward causing him to adopt the same line of action barely able to keep up with his sudden movement. He would feel his flames peel into his black aura with tail swung swiftly forward as the earth in return rises to impale his presence without prior warning. However already prepared before hand to tackle attacks coming from all 5 limbs of the man with the tail included, Hazuki would dart his head a little to the right allowing the tail extend a little further to his side as his left blade rises to severe it by the stem. "Raiden" he would whisper, Releasing sparks of yellow lighting energy into both blade as soon as contact became apparent with the tail. Hazuki would aim not only to severe but to also send sparks of numbing lightning energy running down the tail and Into Daruis spine should incase the tail be linked to his spine. However, if contact were to be made, the flow which would be a fleeting one would be enough to cause a combustive effect as flames and lightning interlock in a combustive battle powerful enough to throw one of balance.

Simultaneously, Spikes of earth would quickly slam into Hazuki foot and waist causing him slight discomfort as he gears forward nonetheless this time smashing through each spikes with his second blade already swung across Daruis biceps'' aiming to severe him from his belly button up to his right rib in an swift ascending slash, Hazuki would find this a bit drag but still at a speed matching the fiery man. With movements backed by his shunpo speed, Hazuki would have easily achieved this in a flash where it not for the spikes which had come to reduce his speed attempting to immobilize his person. However, only reduced in speed by a level with his initial velocity and solid steal shadow acting to save his day Hazuki had found it more convenient to swing without delay, taking advantage of the lack of upturned earth spike which had existed within Daruis inner circle.

A gift from the gods it must have been as hidden within spiked earths and his swords shadow was another extension of a shadowy blade aimed for the right ankle of the towering 6ft captain, whom had brought disturbance to the earth below. Though at a speed two levels shy of his initial high speed movement, the shadowy blade would be precise moving only to pierce through stationed bones in one single sweep.

Given a moment to assimilate the chaos occurring in one single leap, Hazuki would come to find his Armor of steal also bypassed in various shapes and angles as particles of earth riddled his cloak of shadowy steel, reveling bruises, scars and stabbs found burried within his right foot and thigh.
Last edited by
Phantom-T
on Mon Dec 10, 2018 1:31 pm, edited 2 times in total. word count: 977