Member
Articles: 0
Posts: 28
Joined: Thu Mar 30, 2017 3:45 am
User Title: [5th Division Captain]Unhinged Lunacy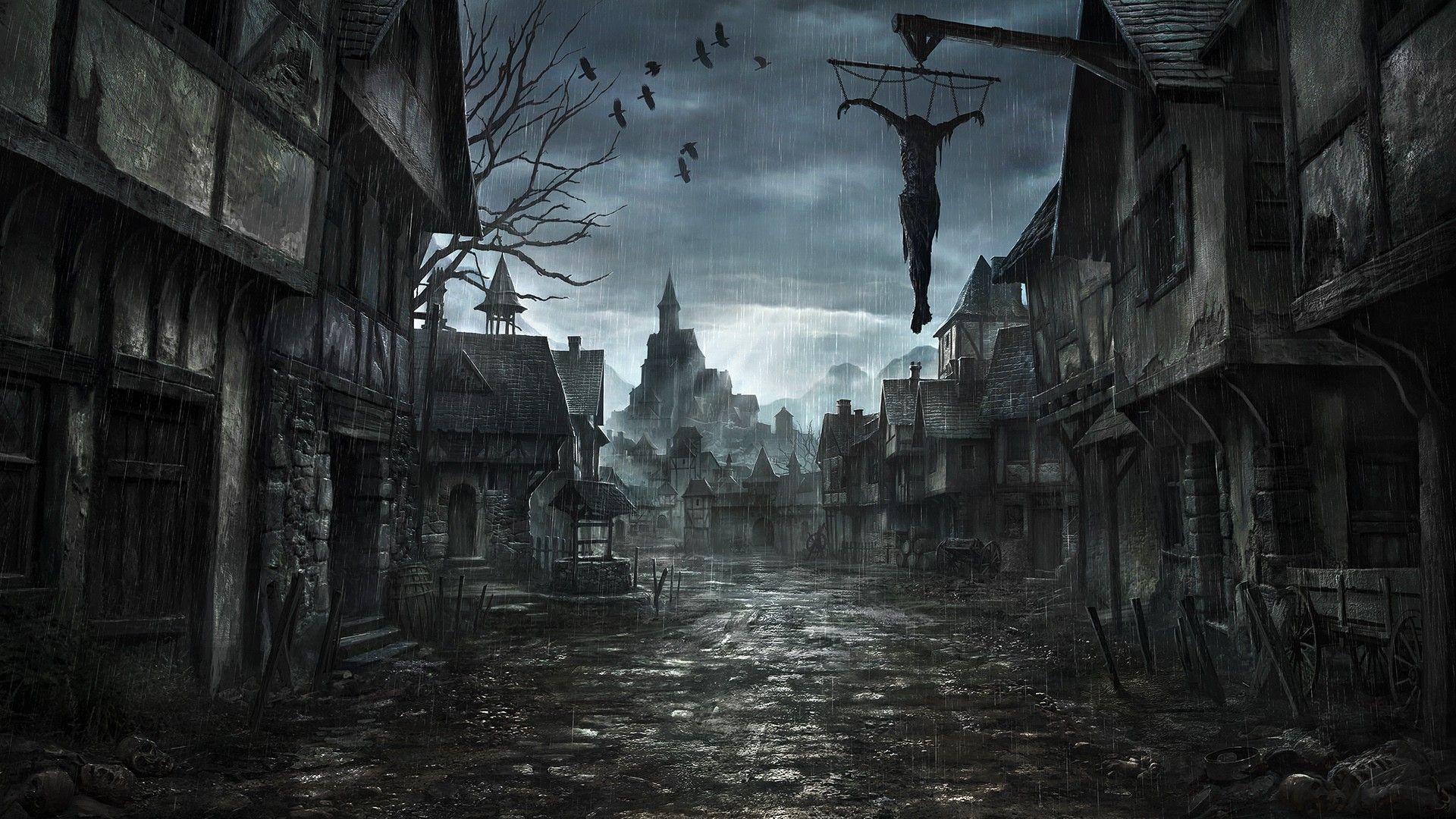 Only Phantom T and Aegis Raiu are allowed to post in this thread.
word count: 13
Member
Articles: 0
Posts: 46
Joined: Thu Feb 23, 2017 2:28 am
User Title: [8th Captain] Shadow Walker
The streets sat in total silence, with the clouds raging on as if in pain. Droplets of water poured from the stormy clouds hitting the streets as mild as a lady brushing the back of her pet cat. There was nothing left to see, there was no sound to hear, not even that of the town bell left in a state of rust.

Skulls lined the lonely roads, all buried in clusters of web and weeds. Pools of mud and blood washed along its side stream, turning the once lively city into a land of lost and despair, a bloody waste land so to say.

Gentle steps patted along the muddy streets, causing no more sound than that which the droplets of rain had continuously drummed. A middle aged man he would appear to be, dressed in a black kimono, with a white haori hanging over his shoulder. The cold wind tugged ever so slightly on his haori making it seem like a cloak put in place for flight. A straw hat sat firmly over his head shielding his long hair from the rain. One would barely see his face but his cold eyes would be as clear as day

Walking so slightly with his hand resting by the side, Hazuki as he was well know by, would pull up his hat for a while gazing at a dead body hanged over the street in display. A warning he would presume it to be, something normally done to show example to those who go against the rules of the king.

However, this was nothing he hadn't seen before, an insignificant way to show power he usually consider it. Returning his hat to its formal position, He would carry on his journey, looking only ahead as there was nothing more to see. Maybe another day, he would return and admire the blood stained pools or the murky buildings and barns, but definitely not this day. At least not until his business here was done.

Submerging his two hands into his kimono, the light skin Shinigami would ponder on the events of his past and the events about to unfold. He could distinctively tell he might not get the chance to admire the ruins and would immediately let out a sigh in return.

The gotei 13 was now his home, one he was ready to protect at any cost. But the sight of an old enemy had come to hunt his days, a man he had hunted all through his life was now one with him, a brother in arm or so they say. However, even though he held no grudges he was not going to accept him with open arms, not when he still didnt believe a man such as him could change.

Hazuki had heard much about his changed ways, how he had come to join the good fight. Kin had been really thorough with his explanations and was one person he felt had good insight. However, that didn't matter, at least not to him. He had his own way of finding the truth and today had been set up right for that.

A flock of crows would immediately fly by, causing him to admire once again as they settle unto a barren tree, clustering around each like one happy family. Well that cannot be he would murmur, not with a man like Daruis around.

Turning over to gaze at the tallest tower around, Hazuki would continue his journey, this time allowing his reiatsu sip out of him, causing the crows to immediately take flight as if spooked by a predator in search of blood.

word count: 607
Member
Articles: 0
Posts: 28
Joined: Thu Mar 30, 2017 3:45 am
User Title: [5th Division Captain]Unhinged Lunacy
The arrival of a terrifying figure drenched the already wet town in dread. Each step rang to all life forms far and near of its existence. It's shadow casted that of a behemoth man but a man still, nonetheless... men of wits would rather not call him one whilst in the presence of his spiritual might. His presence, though frighteningly overwhelming was constantly under heavy suppression. He had a grin on his chin, signifying the excitement in his veins, a disbelief of the power fate held. To think he would meet the one man who'd evaded death by his hands multiple times in the past, a true warrior and a hunter, but of course he would never admit it before him, he was merely only interested in the thrill.
As the clouds darkened and the rain drizzled, the dreaded town slowly gained even more beauty with skull decorations and bloodied mud floors, missing only a gloomy song to add taste. The wind blew doors shut and mice littered the streets petrified under the influence of this monstrous spirit pressure.
However, this man was not insane, at least not anymore, his name... Darius. Clad in the regular shinigami Captain's attire and haori, the standard shihakusho, a white shitagi, a black kosode and hakama, a pair of white tabi, a pair of brown waraji, and a white narrow obi. He stands at over 6 ft 5 inches tall and possesses a muscular build. Along with his short black hair and black eyes, he wears a thin brown bangle on his left wrist and right ankle. His Zanpakuto is a pair of identical pistols holstered at both sides of his chest, and remains concealed by his haori. Darius was here to meet an old acquaintance, Hazuki Ryu... Perhaps he still wants the bounty on Darius... Or perhaps now as Shinigami things would be different, but one thing was certain, death would come to anyone not strong enough today.
Still walking along the lonely streets of the deserted wasteland, birds from a distance would fly past in distress as though spooked by some evil, a clear indication what he sought was within reach. He would laugh psychotically and hasten to the top of the tallest building in two strides, peering down towards the angle from which the birds ascended, he would easily locate a flapping white haori and increasing spirit pressure in the distance.
"Hazuukii!"
Darius called out at the top of his voice, easily defeating the loudness of the downpour, it would echo through the land as though the trumpet of the king had been blown. Despite his excitement, he knew it was time to employ caution, yet like a gambit, he would jump down and walk towards the captain whose face seemed partially obscured by a straw hat seated atop his head. With still quite a distance separating them, Darius would fold his arms in his armpit and gaze down on him with a grin. Slowly letting out incredibly damp red colored spirit energy from the vast pool of his Reiatsu, such that spiritually unaware beings would feel uneasy, a deliberate attempt to size out his opponent.
word count: 528
Member
Articles: 0
Posts: 46
Joined: Thu Feb 23, 2017 2:28 am
User Title: [8th Captain] Shadow Walker
A few more seconds into the waste land, and the signal came.

"Hazuki"

a voice roared so loud, the rain seemed to stop for a while. It wasn't so much the rain but the sound it made. Trilled by the sudden mention of his name, and the familiarity behind such voice, the shadow walker immediately stopped at his tracks, slightly pulling his hat up to confirm the presence he felt.

A figure Clad in the regular Shinigami Captain's attire and a Haori, standing over 6ft tall with the build of a monster quickly came to view. He stood tall against the wind at the peak of the tallest building and seemed to be well prepared for the day. Hazuki's eye quickly lit up with excitement, as he watched him drop from the peak of the building. If it isn't "Daruis" he murmured, almost with a smile as he pulled back his Hat in place. His left hand quickly rose to the hilt of his Kodachi which was well strapped to his right waist by a belt. His katana also appeared to be stationed in thesame position though slightly lower than the kodachi.

Thinking back to the last time he had seen Daruis , Hazuki concluded not much had changed. At least not how he seemed to maintain an intimidating presence. Though still so far, Hazuki could already feel his Reiatsu pressure build up. Bubbling up to take a damp red glow which slowly increased with every step.

Taking the hint from his fellow captain, Hazuki gradually let his run loose, causing the earth to trample at its wake. With each step made tiny slabs of earth peeled from the earth, totally disintegrating as they rose to the sky. His mere presence would see to the end of every low life form over a vast area of land even though still suppressed as a testimony to his control.

So loud

"Daruis Taicho",

Hazuki voiced out, addressing the captain who now had both hand tucked into his armpit.

Hazuki would carefully observe his opponents stature picking up on his battle ready demeanor. "

Hope you don't mind toning down a bit, wouldn't want someone coming to your aid"

. He would taunt, now with his Kodachi drawn to reflect the ray of the moon.

He would then stop 20 meters away from Daruis with a red ball of energy building up in his now outstretched right palm. It wouldn't need much to hint a Shakkahō was in place. However giving the captain only the second to react Hazuki would rise to the sky, spinning mid air to allow a momentum build as he throws forward his kodachi held in his left at an amazing speed. Though not at bullet speed, The kodachi thrown with moderate strength would aim directly for Daruis left shoulder in an attempt to sever tissues and bones.

However, this would be the least of the captains worries, as Hazuki himself would fade out of sight at the point of parting between him and his Zanpaktou. Moving at a more amazing speed he would fade into reality subsequently resurfacing 2m by Daruis right side with the words "

Sai

" spoken at that exact interval.

With eyes always focused on the shinigamis arm. The captain would allow the fully charged Shakkahō shoot forward into Daruis midsection in an attempt to tear him to bits, if by chance he was unlucky to meet a stoic defense minor burns will then be in place as the reiatsu invested into such would be enough to level flights of building lined up adjacent of him.
word count: 604
Member
Articles: 0
Posts: 28
Joined: Thu Mar 30, 2017 3:45 am
User Title: [5th Division Captain]Unhinged Lunacy
Darius watched the young captain tilt his hat a bit to access him with a smile on his face, a clear indication he too was ready for what carnage laid in wait. Pulling back his hat in place, he would grab unto his Zanpakutou with his left arm, as he began a willful display of his spiritual might, evaporating the surface of the earth on which he traversed. Very noticeable were the two swords strapped to his right girdle insighting a dual blade user and the impressive amount of spirit energy he emitted, such that he was able to stand before Darius without flinching.
'So loud... Darius Taichou, hope you don't mind toning down a bit, wouldn't want anyone coming to your aid,'
said the little captain, thus forcing an even larger smile on the herculean man's face. He, Darius would continue a keen gaze when Hazuki would attempt to disrupt his vision by reflecting the ray of the moon from his blade, prompting Darius to free both arms from their previous position to block with his left arm, now wielding his Zanpakutou on both hands he would look up to sight the long haired captain form a red ball of energy in his right hand as he dashed forward and took to the sky, spinning his entity rapidly, he would throw forward his sword towards the daunting figure, aiming for his left shoulder.
At this point it was clear the Captain would try to cover the distance in order to utilize his attack but left with little time to deliberate, Hazuki would employ his Hoho to appear by Darius' right side, aiming his Shakkaho at the huge man's midsection while uttering the word Sai.
Much like an aggressed lion and in response to the impending danger, Darius dashed forward towards the assailant, thus evading the metal impaler, only for the unmistaken spirit pressure of his foe to resurface by his right. It was Hazuki, bringing with him imminent danger in the form of a fully charged Shakkaho aiming for his midsection, however, not even Darius would miss all the warnings his body relayed in that instant, from the change of sound caused by the fluttering rain in that angle, to the heavy presence his Reiatsu boasted, he knew what was coming for him.
As he tried to stretch forth his right arm towards Hazuki he would hear the word Sai, a negligible spell for someone like Darius surprisingly moved his arm towards the back despite the dense red continuous outflow of his spiritual might, a testament to the power his foe held, yet in almost that instant he was free from it's witchcraft. Still unable to return in place to save its master, Darius would as a result, yell out
"Sekisho, "
summoning forth a quick forming wall of energy just in time to receive the full impact of the red blast, pushing him a few inches backwards and scoffing the lower ends of his haori, Darius would look up and smash the earth with the lower part of his left fist...still with his Zanpakutou.
"Sekienton,"
said Darius, filling the entity of the field with dense red smoke, a ploy to keep his intentions hidden, he would completely seal off his Reiatsu and reappear at the top of the building behind Hazuki by means of his Shunpo. Both hands outstretched he would fire two rounds of finely tuned Reiatsu bullets each from his dual pistols towards Hazuki's general upper body, relying entirely on the pinpoint feel of his Reiatsu and knowledge of his general location. If successfully hit, Hazuki would find multiple openings on his skin accompanied by severe pains.
word count: 617